I studied at the oldest university in Istanbul: Istanbul University. This gave me opportunities to get all around Istanbul's historical sites and side streets. I have an enormous passion for the arts, history and stories of Istanbul.
I have been tour-guiding since 2002 in Istanbul. I guided tourists from many different countries: South Korea, Japan [Peace Boat], New Zealand, Australia, England and the USA.
I am also an artist of Turkish traditional arts [Gilding, Calligraphy, Tile-work]. If you are interested in discovering Istanbul from different angles, have a close contact with her people, try a variety of Turkish food, learn a bit of Turkish and understand the essense of the culture, please join me in my tours. Depending on interest areas, I can tailor speacial tours for you.
Please contact me at: esra@esrazen.com
Sam Trubridge [New Zealand]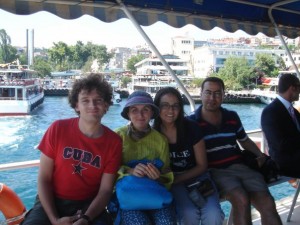 "Esra introduced me to the City of Istanbul with a giddy excitement that only comes from someone who loves their city and has spent many years exploring it so she can share it with others. Her extensive knowledge of the history and culture of the place helped bring the streets alive with new discoveries and experiences that I would not have had if I was travelling with a guide book or by myself. Many thanks for a wonderful journey through one of the world's great cities!"


Robert Ro
ss [Australia]
"Esra is a very enthusiastic guide and has a lot of knowledge about the culture, food and history of Istanbul. One of the best things about being guided around Istanbul by Esra was that she tailored my tour to suit my particular interests. For example, I was interested in Ottoman culture, so she took me to see an Ottoman band; I was interested in Sufi Islam, so she took me to see genuine Sufi religious ceremonies; I was interested in Turkish vegetarian food, so she took me to Turkish restaurants with very good vegetarian options. Without her help it would have been very difficult for me to get off the crowded tourist trail and into the heart of Istanbul to have special cultural and culinary experiences with local Turkish people."