THE SON/G
The night hosts a nightingale to serenade and witness the birth of a life
The night bears many pains to push the sun to rise.
The nightingale's voice gives strength to the roots of the tree of life:
the heart of mother nature: Koru
Koru gives energy to the womb so that life is born.
The mother's body is surrounded by red petals of many roses:
All in crimson red, comforting her soul.
The blossoms of the tree of life are already out, blooming.
That last moment, the magical moment that
Baby finally rests on his mommy's tummy
 That magical moment of attachment and bond.
The source of life keeps on pumping between them, never to be detached, knotted from the middle.
That's the story of how a composition of art became real.
This is how a song delivers a son.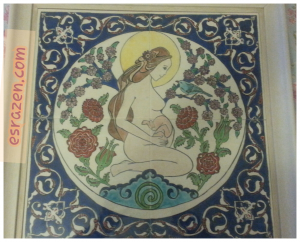 During my pregnancy, I started designing a tile-work composition for my birthing doctor, friend, student, a very special person who is like an elder sister to me Dr. Gülnihal Bülbül. That very design became also the story of my birthing journey. It started in the middle of the night like the dark cobalt colour surrounded the composition in which the sun rose as the son was born. The mother was surrounded by crimson petals of roses (as in Gülnihal) to help her give birth and the nightingale (as in Bülbül) was witnessing the birthing by singing to them. The tree of life (as in classic Turkish tiling) came out of Koru (the symbol of rebirth, harmony, strength and the heart of mother nature in New Zealand Maori culture which happens to be the name of my son). The tree of life was designed almost in the shape of uterus. So the roots of tree of life came out of Koru and Koru came out of uterus. The mother was over the moon and clouds throughout this experience, though in pain.
This composition was to say a big thank you to a very dear heart.
Thank you for your support, comfort and for helping me give birth in a way that made me love my womanness, and the whole creative process.